Businesswoman Deane Clark Laycock Leaves Legacy Gift to GBMC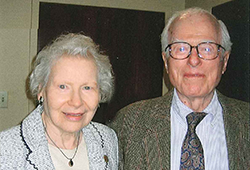 In 1937, at a time when women had limited career choices, Deane Clark paved her own way in life. In need of a college education, she approached a banker, offering several years of unpaid clerical work in exchange for a loan to pay for her schooling. Impressed with her ambition, the banker granted her a loan and promised to hire her at a reduced salary after graduation until she could repay the amount. She went on to become one of the first women hired as a trust officer at Fiduciary Trust Company in Boston.
Born and raised in Lutherville, Maryland, Deane spent most of her professional life in New England with her husband, Zane Laycock. About 10 years after retiring from Fiduciary Trust as Vice President in 1986, she and Zane moved back to Maryland and settled in at Oak Crest Village in Parkville.
Mrs. Laycock quickly developed an active interest in the community and held a number of volunteer and leadership roles with organizations she believed in. One such organization was GBMC, where Zane was treated for cancer by medical oncologist Marshall Levine, MD. She became a member of GBMC's Elizabeth Duncan Yaggy Society by establishing a Charitable Gift Annuity. "It brought Deane great pleasure to be able to give back to the community and support the institutions that do good work, like GBMC," explains her attorney, Craig Spencer.
Mrs. Laycock truly admired the physicians and staff who cared for her husband. In addition to establishing a Charitable Gift Annuity, Mrs. Laycock also expressed her gratitude by making a generous bequest to GBMC in her will. Sadly, Mrs. Laycock passed away in June 2011 at the age of 90. The GBMC community is honored to have been part of her life.
"Deane considered supporting GBMC as a great investment in the community's health," adds Mr. Spencer. Through her will, she is helping to ensure that the quality and compassionate healthcare she and Zane came to appreciate will continue for generations to come.
To learn more about this and other gift planning options, contact John Jeppi, Senior Director of Principal Gifts in the GBMC Philanthropy Department, 443-849-3303 or email him at
jjeppi@gbmc.org