Dedicated Volunteer Leaves a Legacy Gift to GBMC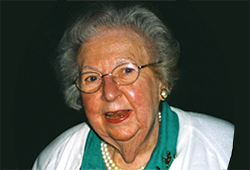 Mrs. Mary Gwynn Erlandson began dedicating her time and energy to GBMC long before it even opened its doors in 1965 during the merger between two specialty hospitals – the Hospital for the Women of Maryland, of Baltimore City and the Presbyterian Eye, Ear, and Throat Charity Hospital.
While the hospital was under construction, Mrs. Erlandson became a charter member of the women's group, which later became the Volunteer Auxiliary of GBMC. From 1967 to 1970, Mrs. Erlandson served as president of the Volunteer Auxiliary and was then elected to the Board of Trustees. In 1978 she was asked to serve on the Board of Directors and in 1984 became Chairman of the Board of Trustees.
A native of Baltimore, Mrs. Erlandson attended Calvert School and Roland Park Country School. She received her undergraduate degree from Bryn Mawr College in Pennsylvania. In addition to her work at GBMC, she also served on the Women's Hospital Board, the Board of Directors for Blue Cross and Blue Shield, and the Baltimore Regional Chapter of the American Red Cross.
Mrs. Erlandson's commitment to GBMC was unwavering. She and her husband Quentin established a testamentary pledge in 2002 to support GBMC. Because the hospital was such a big part of her life, it was important for her to do what she could to help it continue into the future. She was once quoted as saying, "I've certainly enjoyed the relationship I have developed with GBMC. It's been my main interest since 1965. I just think it's a super hospital."
In September 2009 GBMC received a special bequest from the estate of Mary Gwynn Erlandson. We are truly grateful for her vision, commitment and leadership to the hospital and her devotion to GBMC.
A bequest intention is a simple and convenient way to provide for your loved ones and support the charitable organizations you care about. Leaving a bequest like Mrs. Erlandson has done is a thoughtful gift that can have a tremendous impact on GBMC's physicians, staff and patients.
To learn more about this and other gift planning options, contact John Jeppi, Senior Director of Principal Gifts in the GBMC Philanthropy Department, 443-849-3303 or email him at
jjeppi@gbmc.org