A Legacy Gift Supports the Future of Nursing Education at GBMC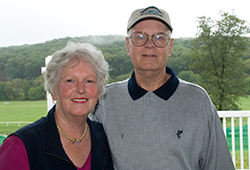 Patricia Wagner always knew she wanted to be a nurse — she had a goal to be involved in healthcare somehow. "My dear husband helped make that dream come true," says Patricia. Now Robert and Patricia Wagner are creating a special legacy gift for Nursing Education at GBMC which will help future GBMC nurses make their dreams come true as well.
Through the years, GBMC has become an important part of the Wagner's world. It is where many Wagner family members and friends received their healthcare. "The empathy and care our family received was unmatched," says Bob. "Why support GBMC? It really comes back to the fact that we just feel like we belong there. From the expert physicians, nurses, staff and, of course, the wonderful volunteers — everyone goes out of their way to make you feel so welcomed."
Pat said she always wanted to do something special and to make a difference in healthcare. The Wagners realized by establishing an endowment in nursing education they could impact healthcare for future generations of nurses and the patients they care for at GBMC.
Making a Mark on Generations to Come
"The whole point for us was — what do we want to leave in the world — what kind of mark do we want to make?" explains Pat. "We have special things we want to leave our children and grandchildren. But just leaving money wouldn't really affect their lives in the future."
Bob and Pat established a Trust. It is the perfect instrument for accomplishing their goals today while also providing a legacy gift to GBMC. In the future, a gift from the Wagner Estate will establish the Robert and Patricia Wagner Nursing Scholars and Education Fund. The purpose of this endowment is to provide funding for Nursing Scholarships at GBMC, funding for Simulation Laboratory Training and to help GBMC nurses pursue continuing education and advanced certification in specialty areas.
The Wagners talked about this gift for quite some time with their family and their estate planning attorney. "It's not something you do lightly," states Bob. But, they wanted to do something that would ultimately benefit the greatest number of people. "It was a great feeling when we made the decision," adds Bob.
The Wagner's legacy gift will have a ripple effect — educating future GBMC nurses for generations to come.
To learn more about this and other gift planning options, contact John Jeppi, Senior Director of Principal Gifts in the GBMC Philanthropy Department, 443-849-3303 or email him at
jjeppi@gbmc.org