Local Businessman's Gift Continues Giving Years Later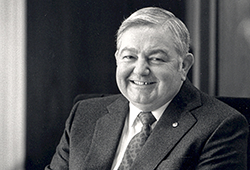 Jerome W. Geckle was the youngest in a family of 10 children raised in the Waverly area of Baltimore. At 17 years of age, Mr. Geckle enlisted in the Marines and served four years in the Korean War. While in the military, he received data processing training that led to his first civilian job as a key punch operator. He went on to implement the first data processing system for Peterson, Howell & Heather (PHH, Inc.) and was later named president of the company. Under his leadership, PHH became a Fortune 500 company with more than 4,000 employees worldwide. He retired as CEO in 1989.
In the late 1980s, Mr. Geckle was diagnosed with Type II Diabetes. He became a patient of Dr. James Dicke at GBMC. With the help of Dr. Dicke and dietitian Kathy Cheney, Mr. Geckle lost 25 pounds and brought his sugar under good control. The experience had a profound and immediate impact on his health.
Around the same time, Dr. Dicke was trying to develop a diabetes education program at GBMC, but the financial resources were not available. Greatly appreciative of the treatment and education provided by Dr. Dicke, Mr. Geckle and his wife, Mary, were instrumental in establishing the Geckle Diabetes & Nutrition Center with a charitable gift in 1997. That initial gift was followed by a Charitable Remainder Trust (CRT) later that same year.
"Deep down, my father was always a Baltimorean,"says his son Steve."He never forgot his roots — he really felt blessed. Giving back to the community was extremely important to him."
Supporting GBMC through a CRT is a generous way to donate a legacy gift. A CRT can provide an immediate income tax deduction and provides a reliable annual income to the donor. Depending on how a donor funds the trust, it is possible to reduce capital gains and estate taxes. When the trust ends, the remaining assets are transferred to GBMC.
Mr. Geckle's thoughtful gift was recently received, ensuring that the community continues to benefit from the quality diabetes education and comprehensive treatment that has helped thousands of patients for nearly 14 years.
To learn more about this and other gift planning options, contact John Jeppi, Senior Director of Principal Gifts in the GBMC Philanthropy Department, 443-849-3303 or email him at
jjeppi@gbmc.org