Nancy E. Smith Joins Legacy Society with Bequest Intention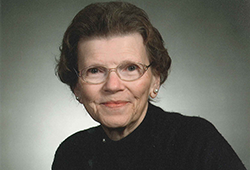 From a very early age, Nancy Smith of Parkville, Maryland knew that giving back was an important thing to do. Her parents were among the early supporters of GBMC, and she recalls them making a pledge during the construction phase. "They were delighted that this new hospital was going to be built in their neighborhood," she says. "Although their gift was modest, I saw how happy they were to support their community hospital."
Years later, when Ms. Smith's father needed medical care, her family naturally turned to GBMC for help. "There are so many doctors that I have a great deal of respect for at GBMC. My mother and I were most grateful to my father's physicians for providing such excellent care."
After her father died, Ms. Smith and her mother discussed how they could best give back to GBMC. "We knew that GBMC was an organization we both wanted to support, and since we were already in the process of preparing our wills, leaving a bequest just seemed like the right thing to do," says Ms. Smith.
GBMC was there for Ms. Smith's parents and it continues to be the hospital she chooses when she needs healthcare. By making a planned gift, she is helping to ensure that GBMC will be here for many others in the years to come.
"If you do want to make a difference in the lives of others, a planned gift is a great way to do it," says Ms. Smith. "I believe that our community deserves to have the kind of healthcare that GBMC provides. I greatly appreciate the dedication of both the medical staff and all other GBMC employees."
By making her bequest intention to GBMC, Ms. Smith also became a member of the Elizabeth Duncan Yaggy Society, which recognizes those donors who have made legacy gifts. "My bequest is but a small token of my appreciation for all that the physicians, nurses, and staff members have done for my family over the years," she says.
To learn more about this and other gift planning options, contact John Jeppi, Senior Director of Principal Gifts in the GBMC Philanthropy Department, 443-849-3303 or email him at
jjeppi@gbmc.org