Longtime Benefactor Recognized for Generous Bequest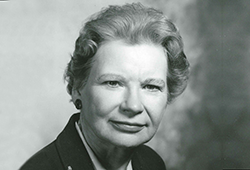 Dedication of the Deane C. Laycock Perspectives in Medicine Lecture Series
During the October 2012 Perspectives In Medicine (PIM) Lecture, friends and grateful patients of GBMC HealthCare gathered to honor longtime benefactor Deane C. Laycock for her generous bequest and to officially dedicate the PIM Lecture Series in her name.
"It is a great pleasure to dedicate the PIM lecture series in memory of Mrs. Deane C. Laycock in recognition of her kind and outstanding philanthropy to Greater Baltimore Medical Center," says John B. Chessare, MD, President and CEO of GBMC HealthCare.
Mrs. Laycock had a great appreciation for the healthcare she and her husband, Zane, received at GBMC and expressed her gratitude through tremendous philanthropy during her lifetime and through her estate plan."Mrs. Laycock was especially fond of the PIM lecture series," says her attorney, Craig Spencer. "She always had a keen interest in learning and liked to be kept informed of the latest medical advances."Mrs. Laycock was a frequent donor, attendee and sponsor of the lecture series.
The Deane C. Laycock Perspectives In Medicine Lecture Series will continue to be hosted four times per year during the months of March, April, October and November. It will also continue to feature exceptional healthcare professionals who provide the GBMC community with timely information on relevant healthcare topics and evolving issues.
To learn more about this and other gift planning options, contact John Jeppi, Senior Director of Principal Gifts in the GBMC Philanthropy Department, 443-849-3303 or email him at
jjeppi@gbmc.org