Baltimore Native Remembers GBMC in Bequest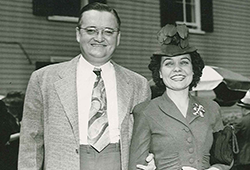 GBMC is honored that Mary C. Rutherford, who passed away in 2012 at the age of 98, chose to make a generous bequest in her will to support her community hospital.
Mrs. Rutherford was born and raised in Baltimore. She attended Notre Dame High School and received her bachelor's degree from the College of Notre Dame of Maryland. After college, she went to work for the Singer sewing machine company. But, she soon realized that she wanted to do something more meaningful with her career, and went back to school to become a nurse.
"Mary was a strong, liberated woman," according to her cousin, Mike Glenn. "You could say she was definitely ahead of her time," he adds. Following graduation, she worked at Union Memorial as a registered nurse. It was soon after her hire there that she met and married John O. Rutherford, a Baltimore attorney. The couple moved from West Baltimore to settle in the Towson area and Mrs. Rutherford remained there for many years, even after her husband's death in 1981.
Although Mrs. Rutherford worked for another hospital, she and Mr. Rutherford became friends of GBMC and developed a special fondness for their community healthcare system. She was grateful for the care that she and her husband both received over the years and wanted to give back in some special way. Through her bequest, Mrs. Rutherford made a legacy gift to ensure that GBMC continues to provide high quality and compassionate healthcare.
Everyone has an opportunity to make a real difference through philanthropy, like Mrs. Rutherford. A simple and convenient way to make a gift to an organization like GBMC is to include a bequest intention in your will.
To learn more about this and other gift planning options, contact John Jeppi, Senior Director of Principal Gifts in the GBMC Philanthropy Department, 443-849-3303 or email him at
jjeppi@gbmc.org